Competitive and friendly cricket
We run two Saturday men's league teams, 1st XI and 2nd XI playing in the Kent County Village League. We also run an occasional 3rd XI playing friendly cricket to provide a learning environment for our younger players and a place for less experienced older players and our experienced stalwarts to ply their trade!
HCC also celebrate cricket by hosting the Horsmonden Cricket Week in late July/early August each year.  The club play matches on every day of the week including all day games against some great opposition.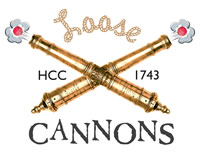 Finally HCC also run a Social T20 game under the moniker of the HCC Loose Cannons on Friday evenings where we welcome everyone to come along and swing a bit of willow and have a few drinks. Black stumps and white ball, Loose Cannons games feature two teams – Drakes and Minions – comprising of players from the 1st XI to 4th XI players, juniors and their parents, pub regulars and friends of the club.  If this appeals, please come along!
Outdoor Training and Nets
Tuesday Training Evenings
6.30pm-8.30pm. HCC run an intensive training session for Senior players on Tuesday evenings. These sessions are headed up by our head coach.
Friday Evening Nets
6pm-8pm. This session will be less intense and more social than a Tuesday Training Evening session.