One of the oldest cricket clubs in the world!
Horsmonden Cricket Club have a long and interesting pedigree and certainly been in existence for a long long time. We are lucky enough to have documented evidence to support this. The game of cricket has developed a lot since our foundation in the 18th century where cricket was funded by gambling interests and some of the wealthier gamblers acted as patrons by forming representative teams of several parishes and even of counties. During the 18th century and early 19th Century, a bowler delivered the ball to the batsman by rolling it along the ground under arm – hence the term bowling. The over-arm bowling action familiar today was not established until the 1860s.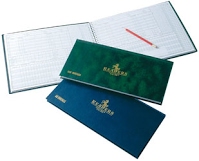 HCC HISTORICAL INFORMATION: WE NEED YOUR HELP! If you have any old scorebooks, fixture cards, photographs, information etc please contact us.
1700s
11th July 1738 – Chislehurst vs Horsmonden
Horsmonden Cricket Club's first recorded match was on Tuesday, 11 July 1738, playing in an important match against Chislehurst Cricket Club on Chislehurst Common. Played for "a considerable sum of money". This is the first known reference of Horsmonden and Chiselhurst who were both prominent for a few seasons before and after 1740. Chislehurst are known to have won.
21st July 1738 – Horsmonden vs Chislehurst
A return match took place at an unspecified venue in Horsmonden on Friday, 21 July 1738, and Horsmonden won this by an innings and 4 runs. Played again for "a considerable sum", it was won by Horsmonden "in one Hands (sic), all but 4 notches". The use of "hands" in this context means "innings", so Horsmonden achieved an innings victory, one of the earliest of this kind on record.
9th July 1743
The Honourable Artillery Company (HAC) have confirmed that Horsmonden's first recorded match against London was at the Artillery Ground on Tuesday, 9th July 1743.
1743: London v Horsmonden & Weald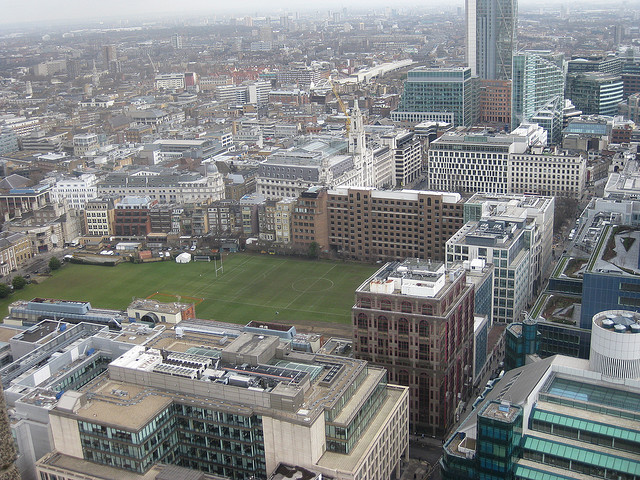 Two early recorded games of cricket played at the Artillery Ground in Finsbury, London.
The Artillery Ground is one of London's most centrally located cricket grounds situated by the City Road just north of the City of London.
It was home of the original London Cricket Club and for many years before the creation of the Hambledon Club in the 1760s, the Artillery Ground was the featured venue of all London cricket.
Cricket throughout the 18th century was funded by gambling interests and attracted huge stakes and the Artillery Ground eventually fell into disrepute because of uncontrolled gambling and ceased to be used for major cricket, the last known match taking place in 1778 some years after the London Club had disbanded.
The photo on the right shows the Honourable Artillery Ground as it is today right in the City of London. The ground can be hired for cricket, rugby, weddings and many other uses.
London v Horsmonden & Weald
Artillery Ground, Bunhill Fields, Finsbury, London
Monday 5th – Tuesday 6th September 1743
London won by 1 wicket (DC)
Three runs were still required when the last man went in.
London v Horsmonden & Weald
Artillery Ground, Bunhill Fields, Finsbury, London
Monday 12th September 1743
London won (DC)
No details were reported of this return match which London won perhaps without difficulty.

1744: John Mills of Horsmonden – Famous Georgian Kent Cricketer
John Mills (dates of birth and death unknown) was a noted English cricketer of the mid-18th century who played for Kent. He was referred to in the sources as the famous Kent bowler. He is known to have been a gamekeeper and he came from Horsmonden, where he played for the local cricket club.
18th June 1744 – All-England vs Kent
John Mills is first mentioned as a member of the Kent team that played against All-England in the famous match at the Artillery Ground in Finsbury (right) on 18th June 1744 which became the first entry in Scores & Biographies. His brother, whose first name is unknown, also played. Kent won by one wicket.
Mills was selected to take part in a major "threes" contest at the Artillery Ground on 17 September 1744 along with Robert Colchin, Val Romney, John Bryant, Richard Newland and Joseph Harris. The stake was two hundred guineas and the players involved were stated to be the best in England. Unfortunately, Mills could not play due to injury and this is the last mention of him.
1745: Sevenoaks, Bromley and Addington versus Slindon, Horsmonden, Chislehurst and London
Another recorded game of cricket played at the Artillery Ground in Finsbury, London.
Sevenoaks, Bromley and Addington versus Slindon, Horsmonden, Chislehurst and London
Artillery Ground, Bunhill Fields, Finsbury, London
Friday 5 July 1745
Long Robin's XI v R Newland's XI
Long Robin's XI won by 5 wkts
Advertised as Sevenoaks, Bromley and Addington versus Slindon, Horsmonden, Chislehurst and London! The match was arranged by the Noblemen and Gentlemen of the London Club.
Information from John Leach, From Lad to Lord's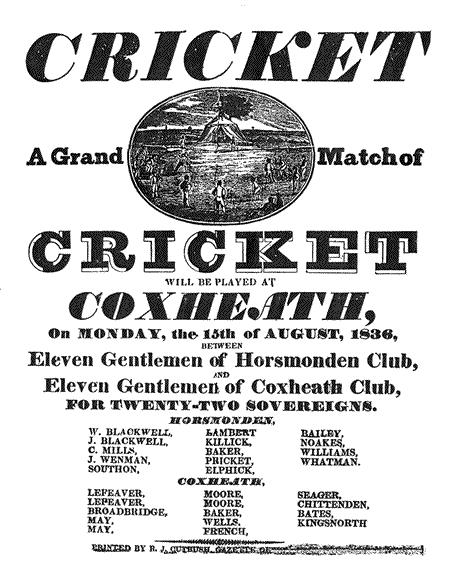 1800s
1836: A Grand Match of Cricket
We have proven evidence of matches in the early 19th century particularly from an historic poster that publicised a Grand Match of Cricket which was played at Coxheath on Monday the 15th August 1836 during the reign of William IV.
It was between Eleven Gentlemen of Horsmonden Club and Eleven Gentlemen of Coxheath Club for twenty-two Sovereigns which had a nominal value of One Pound Sterling or 20 Shillings.
Horsmonden

W. Blackwell
J. Blackwell
C. Mills
J. Wenman
Southon
Lambert
Killick
Baker
Pricket
Elphick
Bailey
Noakes
Williams
Whatman

Coxheath

Lefeaver
Lefeaver
Broadbridge
May
May
Moore
Moore
Baker
Wells
French
Seager
Chittenden
Bates
Kingsnorth
CORRESPONDENCE: Martin Blackwell contacted us with this… Two of my Ancestors William and John Blackwell took part in a Cricket Match for Horsmonden Gentlemen at Coxheath Cricket Club in 1836.
1861: French Grey and Chocolate
At the Public Meeting held in 1904 (see below) Mr George Sawyer Senior stated that the original Club colours when he played in 1861 were French Grey and Chocolate.
1885: Village Green to be restored for cricket
"A great effort has been made this year to restore the Green to its former glory as regards cricket. The inhabitants subscribed liberally, and the Green was returfed. Successful arrangements were made to prevent the turf being damaged at the fair by show carts etc. The chief village clubs played on the Green throughout the season. Of old, all matches in some of which would frequently figure some of Kent's best cricketers – county players were played on the Green. The Green may not be so large – a little piece off here and there possibly to make the road wider; several good dwellings erected with stiff fences in front instead of old cottages with a low possibly half-broken down hedge before them. Hence! will the Green regain its former character for cricket."
Heath House Horsmonden School Magazine 1885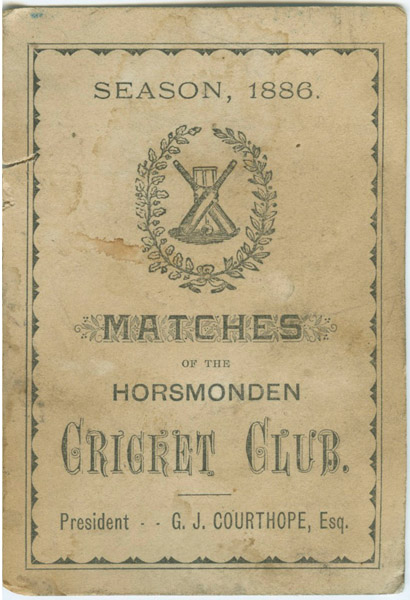 1886: Victorian Fixture Card
An historic Victorian fixture card found by Terry and Sue Reed. Showing home and away fixtures against Rolvenden, Southborough, The School (Horsmonden) and Benenden.
Amazingly we have a full account of one of the matches versus The School which we'll publish in due course.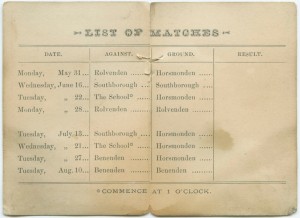 Late 1800s and Pre First World War
Famous poet Siegfried Sassoon played for his village as a youngster, and delighted in the 'local derby' between Brenchley and Horsmonden.
1900
1904: Club Reformed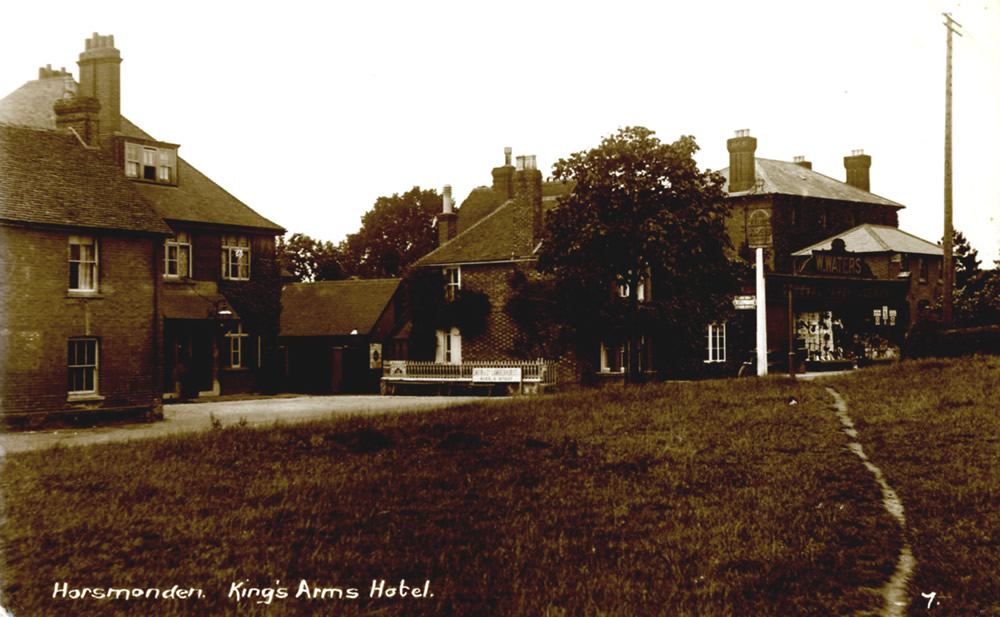 A Public Meeting held at the King's Arms, Horsmonden on Monday 1st February 1904 where the Cricket Club was reformed.
Mr George Sawyer Senior proposed "that the Club colours be French Grey and Chocolate, the original Village club colours worn when in the year 1861 when he was able to take a very active part in the grand old sport". This proposal was carried and Horsmonden CC adopted French Grey and Chocolate as our club colours.
Committee Meeting minutes note "The first business of the meeting was to decide what was to be done with the tackling which the management of the late Horsmonden Cricket Club generously handed over to this new club."
16 games were played and Miss E. E. Boorman arranged a Ladies' Section of the Club with several home and away games.
Fund raisers included a Smoking concert – popular live performances of the Victorian era, usually music and before an audience of men only. These social occasions were instrumental in introducing new musical forms to the public. At these functions men would smoke and speak of politics while listening to live music. These popular gatherings were sometimes held at hotels – so probably the King's Arms.
1905: First Annual Meeting
"The First Annual Meeting will be held at the "King's Arms," Horsmonden, on Monday, the 6th day of February, 1905, at 8 p.m. sharp, when it is hoped you will make a special effort to attend." Nelson T. Hillier, Hon. Secretary and Treasurer, Hayman's Hill, Horsmonden.
1907: Club Outfitters
The Club Colours "Chocolate and French Grey" can be had from Mrs. Waters, Outfitter, Horsmonden. Next door but one to the King's Arms and visible on the photograph above.
1914-18: First World War
Our records show that several HCC Players and Members were killed in WWI. We shall be creating a Roll of Honour to cover this to be published soon.
1939-45: The War Years
Just before the commencement of the Second World War in 1939 the Club was disbanded and reformed in June 1945 as a Sports Club of which Cricket was an important part.
After lengthy discussions the local farmers who owned the field, Captain H. St. G Rallings and H.J. Highwood Esq. presented the ground to the Parish Council on condition that it was leased as a Sports Ground at a Peppercorn rent…
The Sports Club
Cricket has been played on the old Dog House Field for over a hundred years but, to the consternation of the village, when the Sports Club was formed in 1946, they were told that the land was required for agricultural purposes.
However, thanks to Captain H. St. G. Rallings the sports ground was secured by his gift to the Parish Council of a large portion of the Dog House Field. Mr P. Highwood of Swig's Hole also gave part of an adjoining hop garden and enabled a fine sports ground to be made.
The land was made over for all time to the Parish Council and leased to the Sports Club. The founders of the Club were C. Lambert, E. J. Woodgate, P. Henley, E. Cheesman, E. Nicholas, P. Highwood, Capt Rallings, W. A. Fernihough and R. Pressley.
Eventually a fine pavilion was erected and formally opened by Lord and Lady Cornwallis in 1951. [From Historical Society Archive]
1940s
Late 40's to Early 50's: When a Village Hosted Arsenal's Stars
During the summers of the late 1940's and early 1950's Denis Compton, the England and Middlesex cricketer and Arsenal footballer was a regular visitor to Horsmonden. Along with other members or the Arsenal football team, including his brother Leslie Compton, Denis Compton would exchange his boots for a cricket bat, and captain his team against Horsmonden representative side.
The event was always well attended with more than 3,000 people attending the first fixture and was an opportunity for many young fans of the Arsenal team to get autographs and take photographs of their favourite players.
Scottish internationals Archie Macauley, and Alex Forbes, were among the 'greats' in the Gunners team in those days; Ronnie Rooke was a scorer of spectacular goals with regularity; goalkeeper George Swindin thrilled crowds with many brave saves and Jimmy Logie, bamboozled many a first division defence.
Friendship between members of the Horsmonden team, and the Compton brothers ensured the match became a regualr fixture, and any money raised through lottery tickets and collections, was given to various benefits, such as the Sports Club in the village.
Mr 'Punch' Knight, a former captain of the Horsmonden cricket team named members of the two teams in the photographs which appeared in an article and will be published soon.
1949: Opening of Horsmonden's new ground. May 21 1949 Illustrated article
A century towards his £20,000
In 1938 a young Middlesex cricketer named Denis Compton scored a century in his first Test Match against Australia at Nottingham. Since then runs have piled up to become a gigantic statistical monument to the career of England's biggest cricketing idol since Jack Hobbs.
Now in 1949, he is about to reap his reward. This is Compton's benefit year and nation-wide efforts are being made to raise a staggering pile of cash. Friends are hoping the total will reach £20,000. Compton makes no comment, but keeps his fingers crossed.
Most county cricketers are playing seven days a week in summer: the Sunday game is for the benefit of a brother player. Compton has assisted in many of these games; now it is his turn to receive the proceeds. His big game is the Middlesex v. Sussex Whitsun fixture, but village matches on Sundays will provide substantial contributions.
For his first Sunday benefit, Compton left his own county of Middlesex and journeyed to Horsmonden in Kent with his team-mates of Arsenal Football Club to play the village side. This has become an annual fixture, but the 1949 match was a double celebration, for it marked the opening (by Arsenal manager Tom Whittaker) of Horsmonden's new Ground. Auctions and collections helped produce over £200, shared between Compton and the pavilion building fund. Thus Denis, who had had to be content with fifty-two runs towards Arsenal's victory, reached his first century of his greatest season.
CAPTIONS:
Man Out! It's Denis Compton. He's scored fifty-two against village of Horsmonden, down in Kent, and now he faces a young fan with a camera as he walks to pavilion. Here is no Lord's crowd, but cricket keenes is there just the same.
Draw Was Made for bat autographed by entire Arsenal team which played the village side.
Takings… …a four man task. These village stalwarts raised sev… …coppers. The total proceeds amounted to £200.
This Fine Bat, said the auctioneer, was to go to some lucky buyer,. It fetched £4 5s.
1950s
1950: A New Pavilion
In 1950 the Culverden Golf Club, Tunbridge Wells, disbanded and the Sports Club purchased the Pavilion which was removed and re-erected on the Sports Ground. The Pavilion was opened by Lord Cornwallis on 6th May 1951 when the Annual Cricket Match against Arsenal Football Club was held. The proceeds of these games were divided between the Club and various sports personalities…
1951: Arsenal FC vs Horsmonden Sunday May 6th
In 1951 most Football League clubs played cricket games against foreign opposition in the Festival of Britain matches, but Arsenal unusually decided to take part in a game of cricket against Horsmonden in May of that year.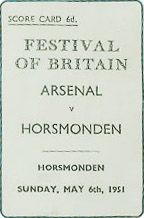 Both Compton brothers failed with the bat, with Leslie Compton scoring 10 and Denis Compton (right) only 8. Lionel Smith (with 37) and Peter Goring, who scored 26, helped Arsenal to a total of 147, but the bowling exploits of Denis Compton restricted Horsmonden to 107.
The programme was a four-page card the cover as follows:
SCORE CARD 6d.
FESTIVAL OF BRITAIN
ARSENAL v HORSMONDEN
HORSMONDEN
SUNDAY, MAY 6th, 1951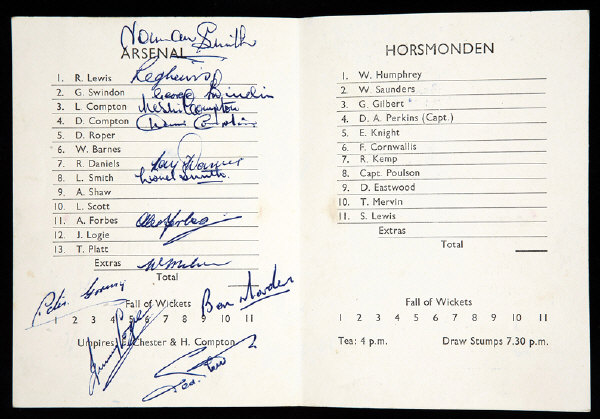 Above: An autographed Arsenal FC v Horsmonden CC Festival of Britain cricket match score card 6th May 1951
The Arsenal team page fully signed by the 13 Arsenal players comprising Lewis, Swindon, the Compton brothers, Roper, Barnes, Daniels, Smith, Shaw, Scott, Forbes, Logie and Platt
Arsenal FC

R. Lewis
G. Swindon
L. Compton
D. Compton
D. Roper
W. Barnes
R. Daniels
L. Smith
A. Shaw
L. Scott
A. Forbes
J. Logie
T. Platt

Horsmonden

W. Humphrey
W. Saunders
G. Gilbert
D. A. Perkins (Capt.)
E. Knight
F. Cornwallis
R. Kemp
Capt. Poulson
D. Eastwood
T. Mervin
S. Lewis
Mid to Late 1950s Charlton Athletic
Charlton Athletic FC were regular visitors to Horsmonden with a fixture against HCC being one of three fixtures and part of their pre-season warm up. Addicks veteran Fred Lucas has told us about the many enjoyable visits he had to Horsmonden Cricket Club in the past and has kindly supplied this photograph of the Blackheath CC fixture which was played prior to the Horsmonden CC fixture, so the line-up would be pretty much the same.
Charlton Athletic footballers beat Blackheath CC by six wickets at the Rectory Field on a Sunday. Left to Right: Kevin Barry, Freddie Lucas, Bobby Lumley, Cyril Hammond, Eddie Firmani, Ron Oosthuizen, Syd Ellis, Stuart Leary, Derek Ufton (Captain), Syd O'Linn (wicket-keeper) and Gordon Pembury.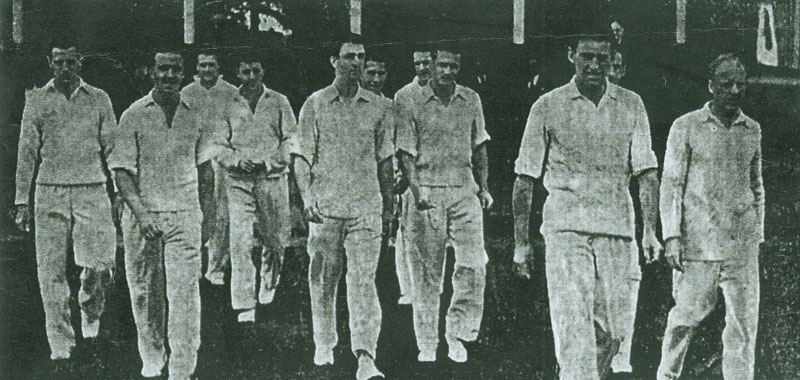 1960s
Memories of the mid-60s and early 70s
"I recall as a youngster back in the mid-60s to early 70s each season visiting your ground when Horsmonden played against my father's team the South Suburban Co-op Society CC in friendly Sunday fixtures. Horsmonden invariably won as they had at least one Kent County 2nd XI players in their side [Stuart Knight] he was the captain and an all rounder, but in my young opinion more of a bowler than batsman. I also remember that there was an old railway line running nearby with a deep cutting and tunnel which ran fairly adjacent to the cricket pitch. As children we would play in the cutting and dare one another to walk across the top brickwork of the tunnel – a drop of some 30 ft to the old track bed – health and safety bah humbug!!!
My father Derek Timms, an opening bowler, sadly passed away some years ago but his cricketing heritage has continued with my son playing for Old Whitgiftians in the Surrey Championship.
Anyway, I thought I'd share my memories with you – good luck to all your sides." David Timms
*The South Suburban Co-operative Society (SSCS) was a retailer in South London, Surrey and Kent. Now part of the Co-operative Group.
1965: Courier Knock-Out Cricket Competition Winners
HCC beat Benenden CC in the final at Cranbrook School Ground on Sunday, 1st August, 1965 (by permission of the Headmaster)
Benenden

R. V. Harding (capt.)
M. T. Fagg
R. S. Barnes
D. W. Elliott
B. Thomas
L. Clarke
E. Jenner
H. Clarke
T. Moore
M. Wright
G. Staines

Horsmonden

W. Thompsett (capt.)
J. Bagwell
C. J. Couchman
D. Couchman
P. Derrick
C. W. Fletcher
M. Fry
V. W. Humphrey
S. Knight
P. Mears
J. Whybourn
1970s
1974: Mid-Kent League Years
Horsmonden Cricket Club join the Mid-Kent League [need confirmation of exact date].
1979: Weald Cup Winners
1980s
1988: Chislehurst & West Kent CC 250 Year Anniversary Match
Wednesday July 6th Horsmonden play Chislehurst and West Kent Cricket Club to celebrate 250 years of cricket at Chislehurst Cricket Ground, which dates it back to 1738 when Chiselhurst Cricket Club had their first recorded match against Horsmonden Cricket Club.
1988: Horsmonden win the Courier Cricket Shield
Horsmonden hold on to the shield
LAST OVER IS CLIFFHANGER
LAST YEAR'S winners Horsmonden hung on in the face of adversity to retain the Courier Cricket Shield by beating Old Juddians by just two runs in this year's final at the Nevill on Friday evening.
They now have the chance to do the village double when they line up against Matfield Green in the Weald Cup final at Staplehurst on Sunday morning, writes Tim Donovan.
Horsmonden's prospects in the shield showdown had appeared to take a downward turn when several of their key players, delayed at Gatwick Airport after their return from tour, failed to arrive by the start.
Fortune shone on their skipper Paul Tompsett, though, who won the toss and took the chance to bat in the better light.

SLOW
But the tourists arrived to find their colleagues making slow progress against the old boys' miserly opening attack. Halfway through their 16 eight-ball over allocation, they had reached only 24, pinned down by David Davies, who snapped up Peter Bateup (14), and Steve Jenner, whose bamboozling style, reminiscent of the Australian Max Walker, brought him the excellent figures of 0-5.
When the free-scoring Steve Barden fell lbw to Paul Eames, a man who appeals so loudly he could knock off the bails with his voice, the match and trophy seemed to be slipping away.
However, the innings picked up slightly with a fine knock worth 22 from Terry Tester which, along with a sterling contribution of 14 by Dominic Baxler, took Horsmonden to 93-6 by the close.

FLUENT
It didn't seem sufficient then, and seemed even less so when the OJs, bidding to win the Shield for the first time in five years, set about knocking off the runs at an extremely fluent rate.
Though he gave a couple of chances, Simon Cosstick was the evening's outstanding batsman. When he was second out, bowled by Terry Tester for 36, Old Juddians had moved to 64, with five others remaining.
But then, needing only 27 from 32 balls, Juddians lost their cool. Tompsett returned to bowl and his final overs proved crucial, as Malcolm Coates and Kevin Jenner fell without scoring and Steve Jenner was out for one. Mike Hogwood then smashed a six and four in successive balls before missing a straight ball by Kevin Knight, who finished with two wickets.

EXCITING
Ten runs were needed off the old boys' last over, but the Horsmonden skipper, sniffing victory, gave them nothing and they amassed only seven in this exciting finish. Terry Tester, for a fine all-round performance, was named man-of-the-match.
Horsmonden's opponents in Sunday's final of the Weald Cup, which begins at 10.30am, are Matfield Green, who defeated Benenden by 42 runs. Horsmonden will be cautious, in particular, of the strong Wilkins family representation in the Matfield side.
Against Benenden in the semifinal, Keith Wilkins (80 no) and father David (31 no) steered them to 140-1. Another son, lan, then scooped four wicket as Benenden slumped to 101 all out.
CAPTIONS
IT'S smiles all round as Horsmonden win the Courier Cricket Shield for the second successive year. Skipper Paul Tompsett is on the left of the shield. Below are Old Juddians, with their captain, Tony Burgess, crouching centre.
TERRY Tester was chosen by both skippers as man~of-the-match award winner – but others were in close contention
1989: First Club to Win the Double
Horsmonden win 'The Double' – the Courier Cricket Shield and Courier Weald Cup. We were the first club to achieve this and probably the last as far as we know.
1990s
1995: All Weather Pitch Opened
Horsmonden Cricket Club's new all weather cricket pitch was opened by Kent Under 13 cricket coach David Thorpe in August. The pitch was to be used by the club's Under 13, Under 15 and Under 17 Colts teams. Around 25 players and coaches attended the opening as well as David Hollands of the Association of Kent Cricket Clubs.
1997: Mid-Kent League Champions
Horsmonden Cricket Club win Division 1 of the Eurosports & Leisure Mid-Kent League with the 2nd XI Runners Up in Division 2.
The Kent Messenger reported on September 12, 1997 "Horsmonden claimed the title as High Halstow fell at the final hurdle. A 115-run defeat put paid to High Halstow's hopes and Horsmonden, who had finished their programme, broke out the Champagne."
998: Hubble and Freeman Invicta League Years
Horsmonden Cricket Club switch leagues and join the Invicta League.
1999: Arsenal FC vs Horsmonden Sunday June 13th
A charity cricket game was played between Arsenal FC and Horsmonden CC at the Dog House Ground.
The singer and actor David Essex also appeared in a game against HCC in 1999.
2000s
2001
Twin-bay Cricket Nets Opened
Senior and Junior club members celebrated the opening of Horsmonden Cricket Club's new Twin-bay cricket nets. Former England cricketer Derek Underwood was the guest of honour, but not only cutting the ribbon but also bowling 14 overs at £5 each in the torrid heat to benefit both HCC and the Parity Club, a charity of which brings cricket to the partially sighted and the blind.
Also present was Terry Cload chairman of Tunbridge Wells Borough Council's leisure services committee, who presented a cheque for £2,000 towards the cost of the facility, and Graham Sellors, chairman of the West Kent Lord's Taverners, who added a much needed youth-section cricket equipment bag to the £1,690 already donated by them towards the cost of the nets.
The National Lottery Fund's awards-for-all section provided a giant presentation cheque for £5,000 in recognition of their support for the project, and Kent Cricket Board development officer David Sear was on hand to be acknowledged for his support in getting the all-important youth section up and running again after a three year hiatus.
"This is a great day for the club and signals a major revival for youth cricket in this area" said youth section co-ordinator and coach Nicholas Fairrie.
2002
HCC entertain Canadian Touring Side Calgary Titans July 2002
200
Kent County Village League Years
Horsmonden Cricket Club switch leagues again with the 1st and 2nd XI are admitted to the Kent County Village League.
2006
The First Jimmy Adams Coaching Clinic
Jimmy Adams the former West Indies captain comes to Horsmonden CC for his first Coaching Clinic taking place in the HCC Cricket Week.
Jimmy Adams plays in the first fixture against the Charlton Athletic Former Players Association with HCC winning the first fixture.
2007
Clubmark Accreditation
HCC achieve the Sport England Club accreditation scheme Clubmark through the ECB, our National Governing Body of Sport.
2009
The First Russell Wyatt Coaching Clinic
Russell Wyatt take up the reigns from former West Indies captain Jimmy Adams and stages his first very successful Coaching Course here at Horsmonden. Russell Wyatt is an experienced ECB Level III Advanced Coach and has developed his cricket coaching methods over nearly 20 years at both youth and senior levels.
2010
Clubmark Accreditation
Clubmark accreditation lasts for 3 years up to 2010. HCC have now been successfully re-assessed on all areas of the award and will our Clubmark will be valid up to 2013.
Charlton Athletic FC Fixture
The Charlton Athletic Former Players Association win the 2010 fixture.
2012
The First Rob Ferley Coaching Clinic
Rob Ferley's company MyCricketProfessional held their first Coaching Course here at Horsmonden after three successful years by Russell Wyatt.
HCC 3rd XI
2012 was the inaugural year of Horsmonden's 3rd XI with a full fixture list of friendlies.
2013
2013 was the inaugural year of Loose Cannons Friday friendly t20 matches under that name.
2014
HCC 4th XI
2014 was the inaugural year of Horsmonden's 4th XI with a full fixture list of friendlies.
Triple Net Bay
Our twin net bay is extended to create a Triple Net Bay and Ardula create a flat surface in front of them.
2015
HCC 3rd XI join the league
2015 was the inaugural year of Horsmonden's 3rd XI joining the Kent County Village League 7.
Our First XI are promoted to Kent County Village League 1.
2016
Our First XI finish 3rd in Kent County Village League 1.